Surrounded by stunning countryside, in an area of outstanding natural beauty, you'll find the Retreat Barn tucked away up a stone track in the heart of Castlemorton Common.

With everything on one level, (ground floor), the property is heated by oil central heating, along with a wood burner.

The Retreat kitchen is well equipped with everything you need should you feel inspired to whip up a feast and you can sit back and enjoy the views from your dining table. The kitchen contains a fridge, oven with ceramic hob and grill and a microwave.

The Barn contains a Nespresso coffee machine, along with pods. We've provide a wide range of cooking utensils, pots and pans, crockery, glasses and cutlery.

Catch up with your favourite radio station, with the Pure radio found in your kitchen, or simply Bluetooth your phone so you can enjoy your own playlist.

Curl up by the warmth of the woodburner in the cosy armchairs, and finally take the time to finish that book, or enjoy a game of Scrabble or chess. We will provide you with a basket of wood a day as well as firelighters and matches.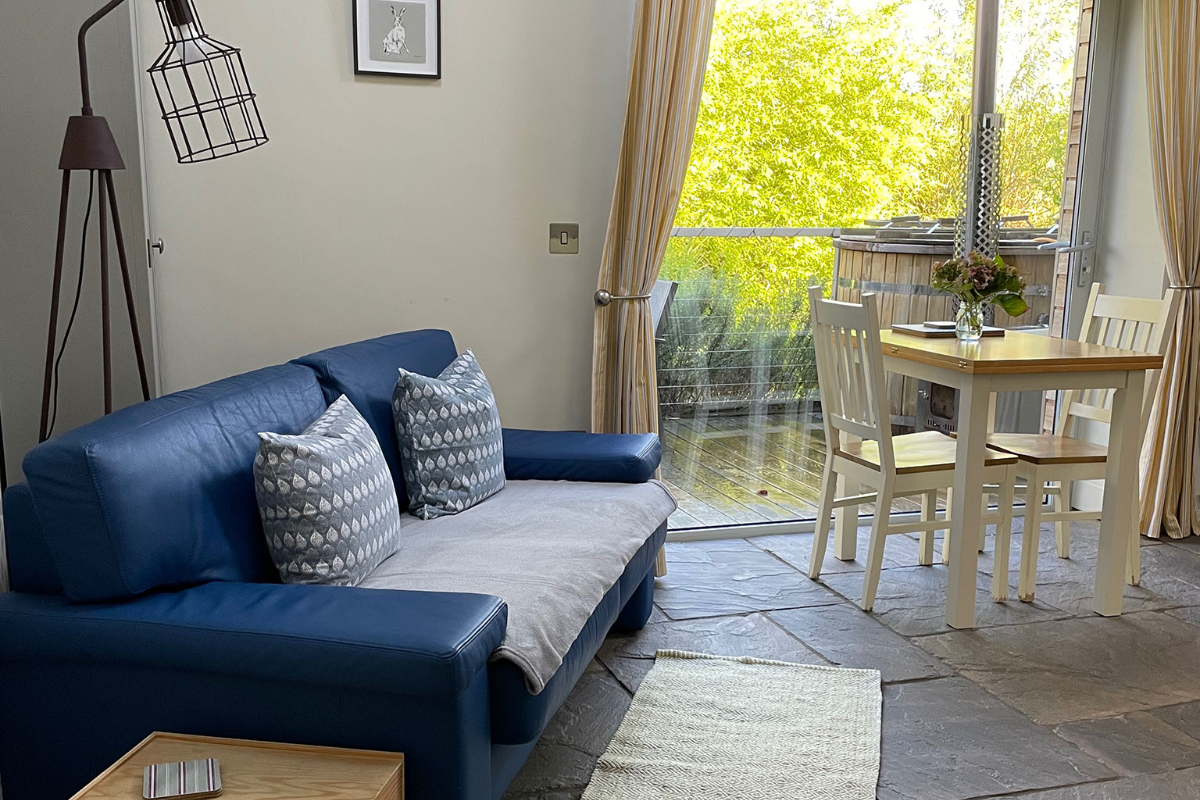 In your Scandinavian inspired bedroom you'll find yourself being lulled to sleep by the hooting owls, and the wind blowing through the trees. Breathe in the fresh country air and enjoy a sound nights sleep. Perfect for couples, you can have the option of a generous Super King bed or two cosy singles. Your bed will be made up with luxurious organic bed linen and a snuggly warm duvet. The Retreat Barn has a generous ensuite shower room , equipped with a heated towel rail, and cosy bath linen. It also has a very handy heated boot and coat dryer, so you can dry out your boots after a day walking in the Malvern Hills. Perfect if the weather is a tad bit British! We also provide you with organic shower gel, hand soap and loo paper. Please note that there is strictly no smoking.
The Deck
The private deck at the back of the lodge overlooks the garden, with the Malvern Hills in the distance. It has a table and chairs for you to enjoy your morning coffee from, or you can sit back and enjoy the star filled skies at night.
The deck is safety enclosed making it the perfect spot for your dog to sit and enjoy the wildlife wandering around the garden. The raised bed in front of the deck is planted with fragrant Lavender and Rosemary.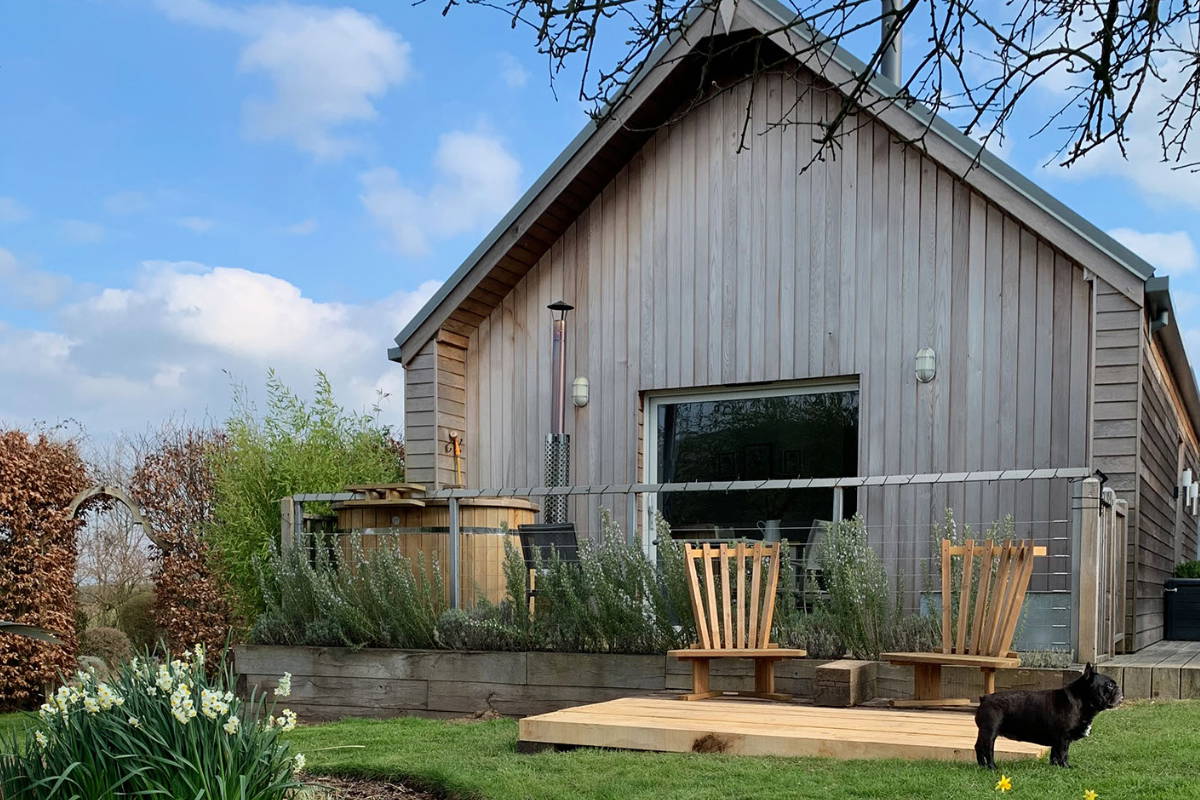 We love dogs and welcome up to two well behaved dogs all year round. (Sorry no puppies we know they are cute but they do chew).  We charge a supplement of £25 for 1 dog. We do request that if you bring your dog that you abide by the following;

Never leave your dog alone in the Barn, (not even in a crate), when you go out. This is to ensure they do not get stressed or cause any damage.

We do provide information on some lovely local dog sitters should you wish to enjoy a dog free day / evening.

Please ensure your dog is up to date with all inoculations, flea and worming treatments before you arrive.

Please do not allow your dog to lie on our chair's or bed or rugs. This is to avoid leaving a doggy odour for the next guests.

Please bring your own dog bed, blanket, towels so they can settle in and feel at home right away.

Please pick up any dog mess.

Please ensure your dog is kept on a lead at all times whilst within our grounds. Our own dogs are friendly but it's best not to upset them! There is livestock on the common so it's advised to walk them on a lead here as well.
Wood Fired Hot Tub
Enjoy your own private hot tub on the cedar deck looking out at the Malvern Hills. Relax and unwind in the warm waters of our Scandinavian wood fired hot tub, and enjoy the spectacular views across the garden with the hills beyond. A bit like slow food, a wood fired hot tub is an experience to savour. The only bubbles will be in your drink, as you and your loved one enjoy a romantic evening star gazing, whilst the logs crackle in the wood burner, and the steam gently swirls and rises into the night air.
We will provide enough wood for you to use the hot tub once a day, and if you decide you want to use it more you can purchase additional logs at a nominal cost of £5 per use. It is solely for your use during your stay. We can help with lighting it if required, (we do provide a how to guide as well), and the lovely thing about wood fired chemicals is that no nasty chemicals need to be used as we fill it with fresh water each time.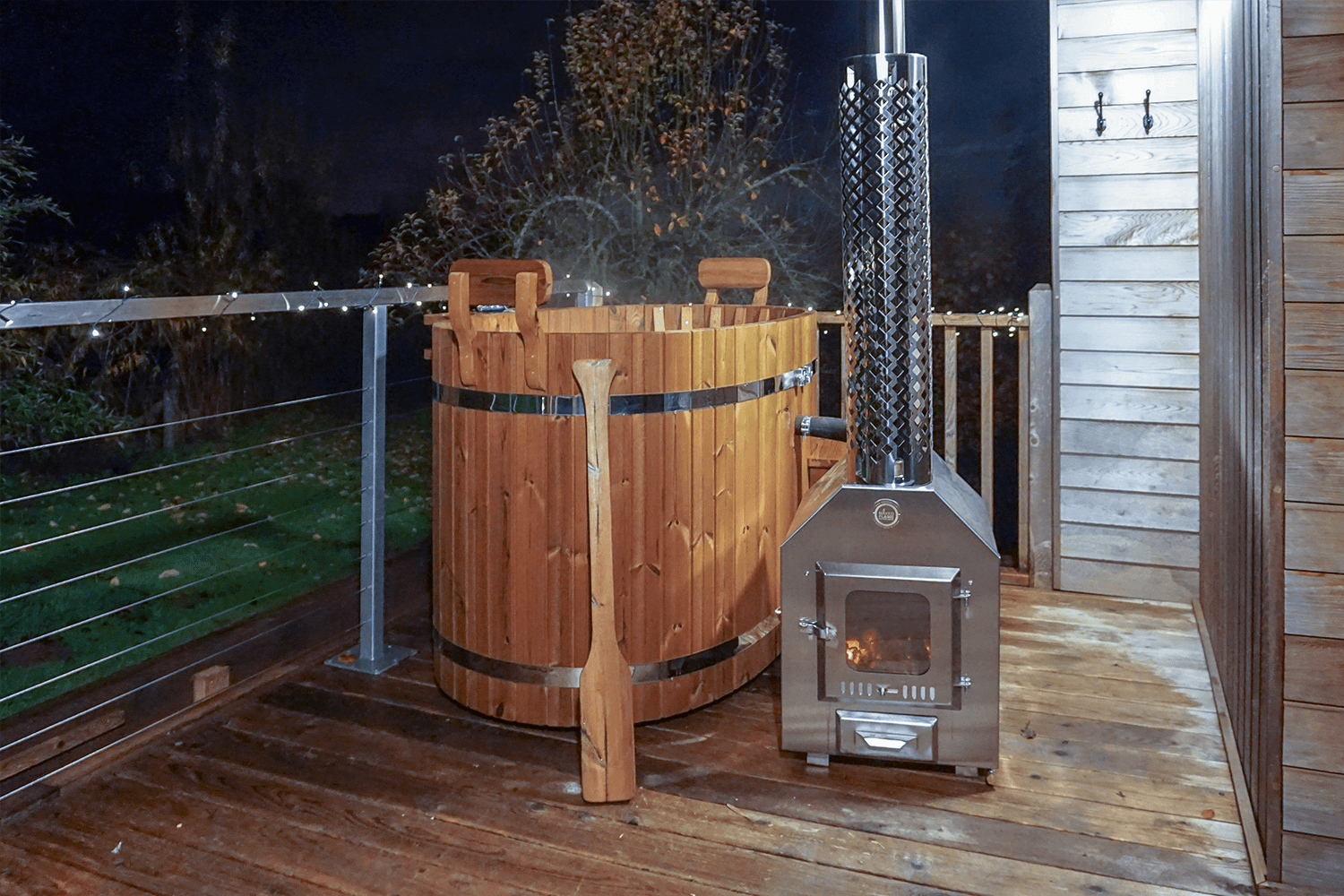 At Retreat to the Hills our mantra is Rest, Relax and Revive. We are perfectly situated to allow you to switch off from the outside world, enjoy the surroundings and return home feeling refreshed and revived. We feel Green Living should be as natural as breathing, and no less luxurious. So we've chosen the fixture and fittings with care, and try to ensure that during your stay with us you leave no footprint.

Zero Waste – To reduce our packaging waste we bulk buy our cleaning materials, toiletries and food. We recycle all cardboard, plastic, glass and tin, and any garden waste goes into the compost in our garden. Please help us by separating your waste in the bins provided.

Zero Carbon – We use locally sourced firewood for our woodburners, along with eco friendly firelighters.

Sustainable Transport – We can't deny that a car is essential to get to our rural location, but to help reduce the amount of car travel once you have arrived we encourage you to ditch the car and walk or cycle. We provide a list of local eateries that provide a take out service so that after a day tramping around the hills you can kick back, relax and unwind in the Retreat Barn.

Sustainable Home – The Bed linen and kitchen textiles are all made from sustainably sourced organic cotton. The curtains, blinds and cushions are made locally using organic and natural cotton. The kitchen is handmade and painted by Mudd & Co, based in Leek in Staffordshire, finished off with a reclaimed chemistry work top. The rugs and throws are made by Weaver Green from recycled plastic. The cleaning materials are purchased in bulk from Ecover, and the soap and shower gel is made by our friends at the Little Soap Company in Broadway. The woodburner is made by Clearview in Shropshire and was fitted by a local tradesperson.
Wifi & Telephones
It's very easy to switch off and unplug from the world when you are ensconced in the hills, but we do appreciate that sometimes you still need access to the outside world. We provide free wifi so you can pick up your emails. Unfortunately the BT infrastructure in our location is a bit outdated and we don't yet have access to super fast fibre, but you will find the connection sufficient for picking up and sending emails, and we provide Freeview tv so you can enjoy keep abreast of the outside world and favourite tv shows. We are in the middle of nowhere (!) so mobile reception is a bit patchy, but you can usually pick up a signal just outside the entrance gate.
The Hot Tub was Something Else
Absolutely loved staying at the retreat barn! Everything was beatutiful and the location was simply peaceful and relaxing! The hot tub was something else and can't wait to return in the near future! Thanks so much.
The Retreat Barn was the perfect luxury snug for our staycation weekend! We had the Malvern Hills on our doorstep for lovely walks and we loved coming back to the barn to enjoy cosy nights in in front of the log burner. The scandi hot tub, which is very private and overlooks gardens, was the cherry on top – even in 0 degree weather! We had all the information we needed from Tess and the place is very well equipped. Would recommend to anyone looking for a relaxing weekend away.
Clean, Eco-friendly and Perfect for 2
We had a fabulous short break at the barn. We could rest completely thanks to the peace and quiet, not to mention beautiful scenery. The hot tub is great – clean, eco-friendly and perfect for 2. Lovely big bed, and great facilities in the kitchen. Tess was really helpful and her communication was spot on. Will definitely be back!
We wanted a relaxing break with a log burner and a hot tub and this is exactly what we got. We had a wonderful stay and would definitely look to come back again.
AMAZING! Could not have wished for a better stay. The barn was extremely clean and had great extra touches. Everything was perfect! We would definitely return!
Beautiful Location and Well-equipped Place
Lovely, relaxing weekend away. Beautiful location and well-equipped place. The suggestions for where to eat and visit were great and we had some lovely food at The Swan Inn. We've already had lots of friends asking about where we've been and I think we'll be making a visit back!
Download Welcome Pack
If you are staying with us, you can download the Welcome Pack using the button below. You can print at home or save to your mobile phone for you to refer to when you arrive.
Address
Ambleside, Castlemorton, Malvern, WR13 6DA